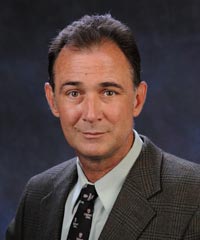 Associate Professor
---
Department
Role: Faculty
Campus: Springfield
---
Postal mail
Missouri State University
Communication
901 S. National Ave.
---
Details
Education
PhD, 1991, The University of Tennessee

MA, 1986, Eastern New Mexico University

BS, 1985, Central Missouri State University
Teaching
COM 100 Introduction to Majors in Communication
COM 305 Service-Learning in Communication
COM 309 Principles of Public Relations
COM 315 Public Speaking II
COM 379 Writing for Public Relation
COM 439 Techniques & Cases in PR
COM 449 Communication Programs
COM 496 Readings in Communication and Persuasion
COM 509 Proseminar in Public Relations
COM 713 Media Resources for Organizations
COM 796 Independent Study
IDS 110 Intro to University Life
Research and professional interests
My teaching and research interests are primarily in public relations. My research at the doctoral level was an analysis of news stories associated with the Exxon Valdez disaster in Prince William Sound, the largest ever U.S. domestic oil spill. My primary research methodology has been content analysis using both human coders and computer coding strategies. However, after five years of teaching and researching in New Zealand, I have developed a deep understanding of critical and interpretive approaches to communication research from a European perspective. I have written articles analyzing the sale of electric corporations in New Zealand, the use of public opinion polls in news copy in Australia, and environmental monitoring strategies for public relations firms analyzing media coverage of their clients. I am currently working on modeling techniques to measure public relations effectiveness, and I am very interested in studying how public relations constructs social reality in the United States.
Awards and honors
University Teaching Excellence Award, Southwest Missouri State University. (August 2001)
IDS 110: Introduction to University Life First Place Teaching Award, Southwest Missouri State University. (March 2001)
Nominated: IDS 110 teaching award, Southwest Missouri State University. (March 2000)
Best Debater, Central Missouri State University
University Teaching Excellence Award, Southwest Missouri State University. (August 2001)
IDS 110: Introduction to University Life First Place Teaching Award, Southwest Missouri State University. (March 2001)
Nominated: IDS 110 teaching award, Southwest Missouri State University. (March 2000)
Best Debater, Central Missouri State University