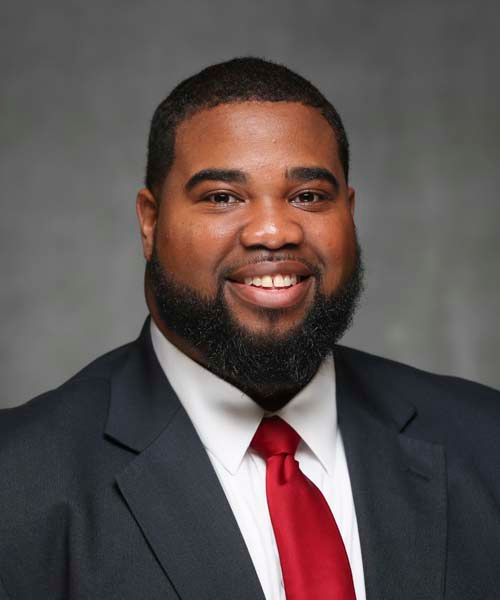 ---
Department
Role: Faculty
Campus: Springfield
---
Postal mail
Missouri State University
Communication
901 S. National Ave.
---
Biography
Dr. Stephen Spates is an associate professor in the department of communication. He currently serves as the interim department head and the director of the Missouri Fine Arts Academy. His primary research focuses on organizational communication within health environments. Specifically, Dr. Spates looks to explain and predict communication behaviors of individuals, or teams, who work in hospitals or medical centers. His secondary research focuses on exploring source credibility of information disseminated in the Black community. He has published research in academic journals such as Southern Communication Journal, Communication Teacher, Communication Studies, Howard Journal of Communications, Frontiers in Communication, and Communication Research Reports.
In the classroom, Dr. Spates holds an exceptional teaching record and is recognized as an outstanding teacher by the Central States Communication Association. Dr. Spates puts his research into application through community workshops on diversity communication, family dynamics, and spiritual communication. He has partnered with several community organizations as well as campus organizations like the Center for Dispute Resolution. His success in the community continues to grow as the lead researcher on a grant (worth over $500,000) from the United States Department of Homeland Security. The grant will be used to provide educational resources to help individuals learn about bias and discrimination.
---
Details
Education
PhD, Communication and Information, 2017, The University of Tennessee

–

Knoxville
MA, Communication Studies, 2012, Western Michigan University
BA, Communication Arts, 2009, Oakwood University

–

HBCU
Teaching
COM 206 Introduction to Health Communication
COM 260 Communicating with Cultural Competence
COM 336 Communication in Organizations
COM 338 Communication Strategies for Recruitment in Organizations
COM 717 Communication and Diversity in the Workplace
COM 597/698 Studies in Communication Theory and Practice
COM 712 Quantitative Research Methods in Communication
COM 736 Concepts and Analysis of Communication in Organizations
Professional experience
Professional affiliations
Central States Communication Association (CSCA)
International Communication Association (ICA)
National Communication Association (NCA)
Phi Beta Sigma Fraternity, Inc., Rho Sigma Sigma Chapter
Campus Advisor, Phi Beta Sigma, Rho Chi Chapter
Campus Advisor, Zeta Phi Beta, Theta Pi Chapter
Research and professional interests
Organizational communication
Workplace diversity
Communication in healthcare
Communication dynamics in spirituality
Strategies for classroom community
Awards and honors
Missouri State University Board of Governors Faculty Excellence in Public Affairs Award, 2022
Pearson and Nelson Outstanding New Teacher Award, Central States Communication Association, 2022
Top Research Paper, Instructional Development Division, NCA, 2021
The ComBotLabs Award, Communication and Technology Interest Group, CSCA, 2020
Alpha Delta Pi (MSU Chapter), Teacher of the Month, Missouri State University, November, 2019
Special Recognition of Service (Newsletter Editor), Central States Communication Association, 2019-2020
Special Recognition of Service (Legislative Assembly), National Communication Association, 2018-2020
Outstanding Graduate Faculty Member, Department of Communication, Missouri State University, 2017-2018
Summer Research Grant Recipient, Missouri State University, 2017
120 Faces of Oakwood University-Special Recipient, Oakwood University, 2017
Bernard King CCI Scholarship, The University of Tennessee, 2015
Courage to Climb Leadership Award, Student Life-The University of Tennessee, 2014
ESPN Award of Student Excellence in Scholarship, The University of Tennessee, 2013
All-University Graduate Research and Creative Scholar Award, Western Michigan University, 2012
Excellence in Research Award, School of Communication, Western Michigan University, 2012
Special Honor, TA Mentor Award, School of Communication, Western Michigan University, 2012
Delbert W. Baker Excellence in Communication Scholarship, Oakwood University, 2007 and 2008