Dr.

Elizabeth A. Dudash-Buskirk
---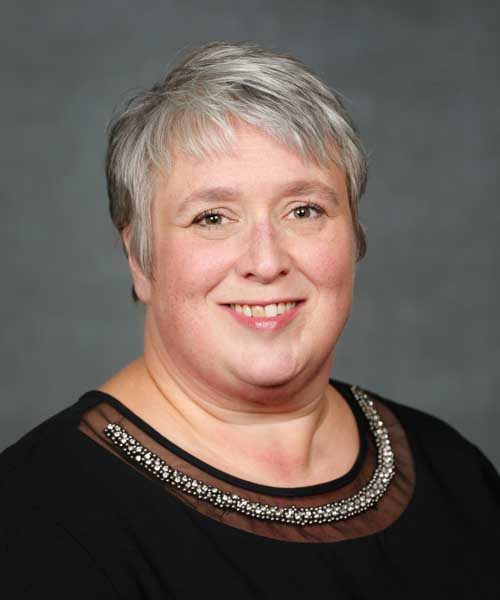 Associate Professor
---
Department
Role: Faculty
Campus: Springfield
---
Postal mail
Missouri State University
Communication
901 S. National Ave.
---
Details
Education
PhD, 2007, University of Missouri – Columbia
MA, 1999, Miami University of Ohio
BA, 1997, John Carroll University
Teaching
COM 115 Fundamentals of Public Speaking
COM 315 Public Speaking II
COM 350 Rhetorical Tradition
COM 496 Readings in Communication and Persuasion
COM 566 Social Movement Communication
COM 597 Studies in Communication Theory and Practice
COM 706 Rhetorical Theory
COM 716 Rhetorical Analysis in Communication
COM 796 Independent Study
COM 799 Master's Thesis
Research and professional interests
Elizabeth is most interested in studying how individuals create themselves as part of or outside of the social system through language. Language creates and upholds social institutions such as the Presidency, the electorate and our class system. Understanding how individuals decide to participate, enact their citizenship or promote their own life agenda is best answered through a close examination of their communicative activities. Therefore, most work is centered on rhetorical acts and requires answers found through rhetorical criticism, focus group participation, close textual analysis and critical approaches. Recent works include, "New kids on the block: My first time in a political community," published in the American Behavioral Scientist and "International appeal in the presidential inaugural: An update on genre and an expansion of argument" in Contemporary Argumentation and Debate. Elizabeth also enjoys exploring film from critical perspectives, particularly, examining gender issues and using psychoanalytical approaches although the majority of her work is categorized as political communication or rhetorical studies.
Awards and honors
Graduate Faculty Member of the Year, Communication Department. (April 2008).
Summer Faculty Fellowship Grant, Missouri State University. (2007).
The Chancellor's List for Graduate Students. (2005).
Research Assistantship/Grant, University of Missouri. (2002).
The Gilman Award for Excellence in Rhetorical Studies, University of Missouri. (2001).