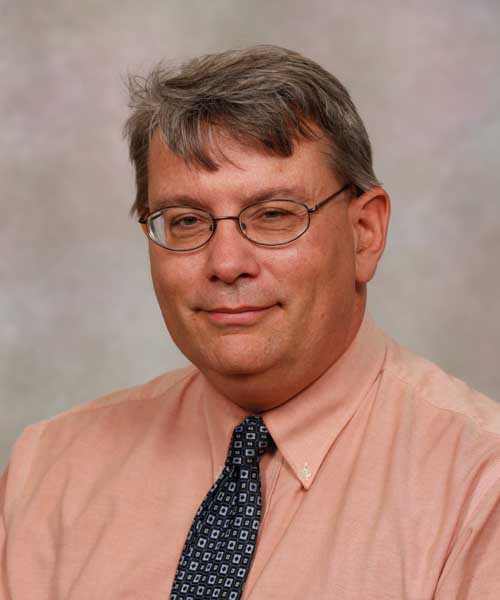 Associate Professor
Director of Forensics
---
Department
Role: Faculty
Campus: Springfield
---
Postal mail
Missouri State University
Communication
901 S. National Ave.
---
Biography
Dr. Eric Morris is associate professor of communication. His PhD. dissertation focused on clash strategies in contemporary presidential debates. A number of his publications have also focused on questions related to political or academic debates, including format, audience, constraints, strategies and outcomes. He also directs the Missouri State University debate program.
Missouri State University competes in inter-collegiate debates in two formats: NDT/CEDA and NFA-LD. Each uses a year-long topic on a public affairs issue. Any MSU students, including walk-on students with NO prior debate experience, are invited to enroll in COM 321 to learn about academic debate. COM 321 are not required to compete in inter-collegiate competition while learning about debate, but will have the option of doing so. For more details, including this season's debate topics, please contact Dr. Eric Morris.
Beyond debates, his academic interests focus on political communication and public argumentation. His other publications have included work on the framing of liberal and conservative perspectives, rhetoric about terrorism and strategies used to define the meaning of politically relevant events.
---
Details
Education
PhD, Communication Studies, 2004, University of Kansas

MA, Speech Communication, 1993, Kansas State University

BS, Communication & Political Science, 1990, Missouri State University
Teaching
COM 320 Principles of Advanced Debate
COM 321 Inter-Collegiate Debating
COM 328 Persuasion
COM 496 Readings in Communication and Persuasion
COM 532 Teaching Debate
COM 534 Teaching Individual Events
COM 554 Presidential Rhetoric
COM 597 Studies in Communication Theory and Practice (Presidential Debates)
COM 696 Independent Study
COM 702 Theory and Research in Communication
COM 706 Rhetorical Theory
COM 716 Rhetorical Analysis in Communication Research
COM 796 Independent Study
Professional experience
Professional affiliations
Executive Secretary, American Forensic Association, 2018-present
District 3 Chair, National Debate Tournament, 2008-2012
National Debate Tournament, 1995-present
Topic Committee, Cross Examination Debate Association, 2010-2015
President, Cross Examination Debate Association, 2013-2014
Cross Examination Debate Association, 1986-present
Novice Curricular Contributor, American Debate Association, 2017-present
American Debate Association, 2012-present
Reviewer, Political Communication Division, Central State Communication Association, 2006 and 2011
Finance Committee, American Forensic Association, 2006-2009
Selected publications
Wahl, S. T., & Morris, E. (2021). Persuasion in your life (3rd Ed.). New York: Routledge. (Submitted, December 2020)
Morris, E. (2021). The counterside problem: Blackmun's tie-breaking in Roe v. Wade. In D Hample (Ed.), Local theories of argument (pp. xx-xx469-475) New York: Routledge.
Morris, E. (2021). Reagan's second inaugural: Balancing the genre. In A. Kall (Ed.), I Do Solemnly Swear: Presidential Inaugural Addresses of the Last Forty Years (pp. 37-48). Lexington, KY: CreateSpace.
Morris, E. (2020). MSDI Video Series 2020: Criminal Justice Reform (119 Video series; Personally recorded about 40). https://youtube.com/playlist?list=PLgIAYnhIgYmlueu-TDBty4oXuRhcijLQq
Morris, E. (2019). President Bill Clinton, January 19, 1999. In A. Kall (Ed.), The State of the Union is . . .: Memorable Addresses of the Last Fifty Years (pp. 163-179). Lexington, KY: CreateSpace.
Morris, E. (2016). William Howard Taft and the conservation of the Republican Party in 1912. In J. Ashley (Ed.), The Bully Pulpit, Presidential Speeches, and the Shaping of Public Policy (pp. 15-26). New York: Lexington Books.
Morris, E. (2016). The 5th debate: December 15, 2015. In A. Kall (Ed.), Debating The Donald (pp. 143-172). Lexington, KY: CreateSpace
Research and professional interests
Presidential, political and academic debates
Political communication and public argumentation
Awards and honors
George Zieglemueller Lifetime Service Award, National Debate Tournament, 2021
Coach of the Year, National Debate Tournament, 2008
Additional resources
---
Area of expertise
Communication
Student affairs
Government, law and politics
United States